Panther Protect security doors and windows are manufactured with a difference. We use the latest engineering technology so you pay less for a security solution that offers better performance and more reliable protection. Due to the innovative design, our product offers benefits that leading competitors simply can't match.
Unique Design
Unlike other systems, the Panther Security door has achieved test results that other doors have failed even getting close to. The simplicity in the mechanics of how the mesh is held in place is the secret to making this product so strong and so successful. The ingenious "load locking leg" ensures the entire perimeter of the mesh is held tight in every inch of the frame. There are no unsightly screws, no rivets, no mechanical fixings, no clamping – the clever engineered "load locking leg" is all that is needed to provide strength that actually get stronger the more impacts it receives.
Unlike other doors on the market today that weaken with every impact, with the Panther Protect doors and windows, the more force applied to the impact, the tighter the "load locking leg" grips by jamming the mesh into the frame as the leg moves forward under impact. This unique design gets stronger with each impact where other doors weaken with each impact. VERY SIMPLE AND VERY EFFECTIVE – This enabled the Panther Protect door to withstand 100 impacts — that's 20 times the requirement to meet the Australian Standard for the dynamic impact test. Australian Standard only requires 5 impact hits to pass the test so to put it into perspective, the Panther door lasted 2000% more than required.
Superior Strength
As well as offering a more affordable and attractive security solution, the Panther Protect Security door provides proven superior strength. The patented design of Panther Security doors has proved that superior strength can be obtained without unnecessary obstruction to your view with bars or grills, or the use of screws, rivets, mechanical fixing, clamping or crimping systems.
In fact not only did Panther Protect withstand 100 impacts for the dynamic impact test, we increased the level of impact to 200% and 300% more than the Australian Standards and it still passed with flying colours. We can claim with absolute proof that the Panther Protect security door is 3 times the Australian Standard for dynamic impact. This means that our product withstood a minimum of 5 impacts with 200% and 300% more force than the Australian Standards required:
"WE USED THE SAME DOOR WITHOUT CHANGING IT FOR THE ENTIRE TESTING"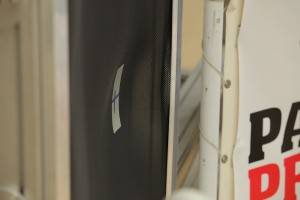 Refer to our testing video comparing our amazing results against another leading brands
Extensive Testing and Unbeatable Results
Panther Security doors have achieved results that others have failed and we don't just make claims – we prove it.
All testing was carried out by an independent NATA accredited laboratory, including dynamic impact, Jemmy, knife shear and salt spray tests. "Refer to out test results"
No Mechanical Fixings Whatsoever
Screws, rivets and anything that reduces the structural integrity of a surface can cause weaknesses in specific areas and increase the risk for corrosion or product failure. Where there are screws that penetrate both the aluminium frame and the stainless steel mesh, this creates contact between dissimilar metals which leaves the breached surface vulnerable to galvanic corrosion.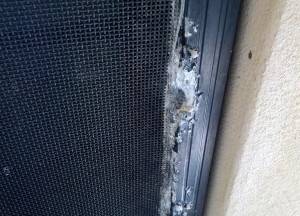 Depending on the fixing method may also make tampering easier, giving intruders an entry point into your home. The Panther Protect design has gone far beyond this outdated security solution to create a powerful product with no mechanical fixings but achieving amazing strength.
Superior Appearance
Panther Protect security doors and windows provide an attractive alternative to other products on the market that can offer a limited amount of home protection but do not look aesthetically pleasing.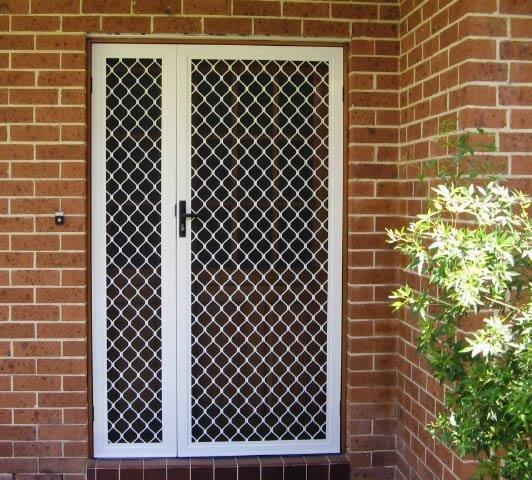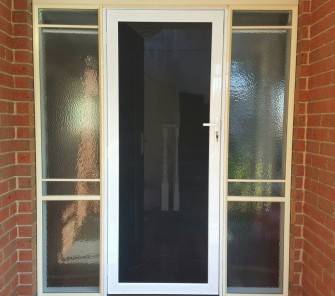 Although there are several stainless steel security product options available on the market, not everyone can afford them as they are aimed at the high end market. We recognised the frustration for home owners who wanted an alternative for their home security but the choices were cost prohibitive. By using clever design and innovation, we offer our customers a door that exceeds the aesthetic appeal and strength of other high end stainless wire security products at a much more affordable price. The appealing "Bull nose" curve of the profile enhances the aesthetics making it look more like a picture frame rather than a box.
Don't overpay for yesterday's technology – invest in Panther Protect security doors and windows for long lasting security.